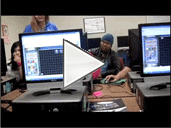 What is more relevant and engaging to students these days than video games? In a few short weeks, you and your students can go from no game design experience to publishing your health related online video games on the Green Ribbon Schools website. The best part is we will show you exactly how to do this.
We understand that Game Design can be new and intimidating. So we have developed a simple Lesson Plan for teachers to follow. No matter how computer-phobic you may be, you can complete this Lesson Plan with your students in 3-5 weeks (some have even completed it in less). No game design or coding experience necessary. (With game design experience you can complete this in a matter of days).
So dismiss those thoughts of intimidation and truly engage your students in learning about health, while also enhancing their STEM (Science, Technology, Engineering, Math) skills and career skills. Find out how to enter.