Do you play video games? Ever thought it would be cool to actually design video games?
Even if you have no game design experience, you can enter this contest. All you need to do is get your teacher involved to help get your started. Here is how: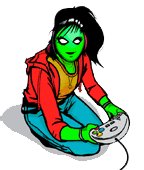 We have step by step directions for your teacher to follow once they get there.
Check out the game below, created by a student. To see the story behind this game, and an example of a completed Results Page submission click here.
Students: Check out the SUBMISSION CHECKLIST to see what all you need to include in your Contest Submission.