Want to win a laptop? Want to show off your video game design skills?
All you have to do is send people to your published Healthivores video game page on the Green Ribbon Schools website and have them click the "LIKE" button. The game page with the most "Likes" on December 31st wins a laptop for each team member. Easy as that!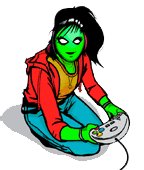 Check out the Leaderboard on the homepage to see where you stand in the rankings.
Here is how to locate your published game page from last year and how to send people to it to "LIKE" it:
Visit this page on the GRS website: http://greenribbonschools.org/publishedprojects.php
In the search bar, enter the word "Healthivores" and your GRS username (for example: Healthivores, davidguy123). If you can't remember your username, search by your school name.
Once you find your published game page on GRS, use the Share buttons or the URL for the page to send people to "LIKE" it. (NOTE: Get together with your entire game design team and make sure each member is working to get "Likes" for your page on GRS.)
Send your friends, family, neighbors, teachers and anyone else you know to vote for you and you will win a LAPTOP!
Check out this EXAMPLE PAGE so you can see what the LIKE and Share buttons look like, and if you have any questions CONTACT US.